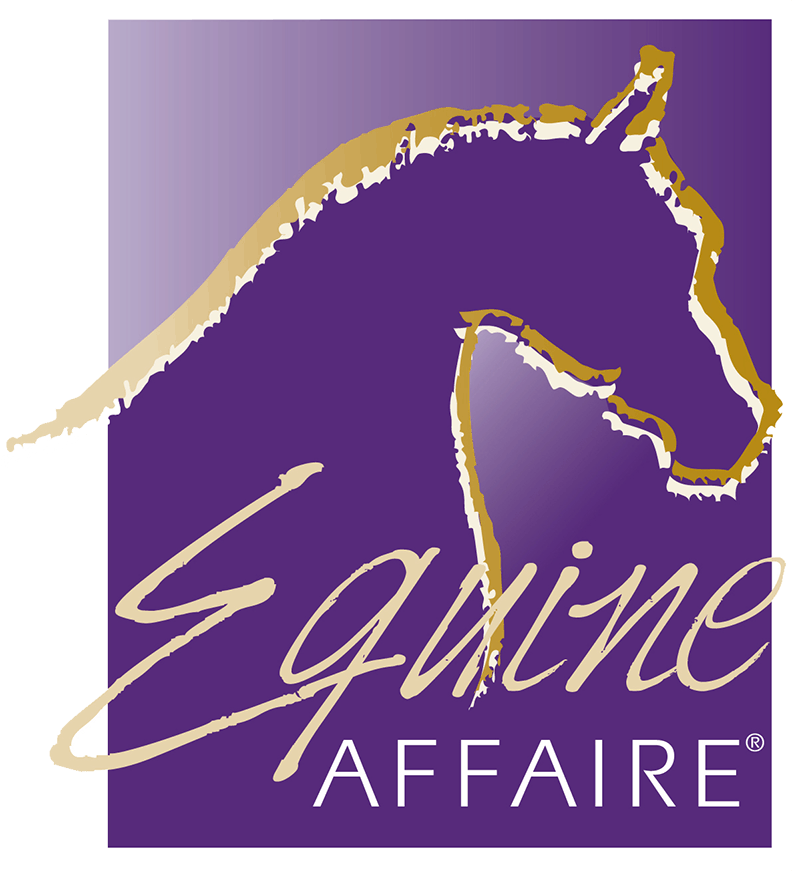 Press
NEWS
12/06 – See our Gypsy Horses for Sale! Pictures have been updated! We also have two top quality Drum Horses available, a coming yearling gelding and a coming 2 filly!
11/06 – We have added two new mares to our hear…Gypsy Vanner mares, Shona and Bella.
10/06 – The show season is over! Slainte ended the season with three Supreme Championships and one Reserve Championship. Cobalt our three year old co-owned stallion, with Wildcreek Farm, ended the season with One Supreme Championship and one reserve Championship! We are proud of our boys!
9/05 – Look for us at Equine Affaire in Kentucky, September 16-19. Chew Mill Guinness will represent the Drum Horses during the GCDHA breed demo and Our Champion Vanner stallion, "Slainte" will represent The GVHS. Also look for newcomer to the show world, "Cobalt", owned by Wildcreek Farm of Ohio. Cobalt will make his debut at EA, also representing the GVHS.
UPDATE! Equine Affaire was great. For a first year, it was well attended, and the horses got great exposure! Cobalt was in his first Breed Demo and also represented the GVHS breed booth. He was better than expected, and adored all of the people! Slainte also represented the breed booth and was in the Vanner demo. He has become an old pro! CM Guinness, the only Drum in attendance in Kentucky, and his 6th Equine Affaire in a row was in both the GCDHA breed booth as well as the Breed Demo.
8/05 – Our Gypsy Vanner Stallion, Slainte, took Supreme Grand Champion at the GVHS Show in Ohio. He also took 1st in Western Pleasure and 2nd out of 20 horses in the Vanner color class. We were thrilled with his behavior and proud of his acomplishments! See below for more information from the show!
5/05 – Two with one to go! Foals that is. 🙂 We have had two great looking fillies, a Drum and a Clyde. The Clyde filly has Armageddon lines and is offered for sale. Visit our Sales Page for more info.
4/05 – Embryo Transfer foals are available this year! reserve now, as we are only producing four! Visit our Sales Page for more info.
1/05 – Look for us at the Ohio State Fair on August 13th 2005in the Gypsy Vanner Horse classes! Slainte, Angel and Boromir will all be there!
1/04 – Slainte is now a "spokes-horse" for Dac Oil! One of the top Mineral and Vitamin supplements in the country! For more information on DAC Products contact Old Mill Farm.
3/04 – Attention Mare owners… Slainte has been approved with the Gypsy Vanner Horse Society! Slainte is also registered with the GCDHA and the ICS.
4/04 – Confused by Genotyping? Click here to read a simplified version of genetic coloring and patterns.
6/04 – Old Mill Farm is pleased to announce we had two lovely CM Guinness Bred foals this year on our farm! A colt and a filly and both colored!!
We also had a solid colt, Killian bred out of our new Drum Horse mare, Bell. His sire is a "Drum Horse", Seymour, located in England. At this point in time, his lines are totally unrepresented in the United States!
11/04 – Old Mill Farm is gearing up for Breeding season 2005. Request your contracts now. To keep bloodlines valuable, each stallion is offering only a limited number of outside breedings. Visit our sales page for foals bred out of our personal stock as well.
---
s Seen In
Old Mill Farm has been the subject of many articles, spotlights, etc… Here are just a few publications, websites and so on that we have been in.
---
Cowboys & Indians
Horse Illustrated
Equine Journal
DAC Product Catalog
Equine Affaire Website
*How to Draw Horses (the book)
---
Come see us at the following events!
More will be added as we receive the sign up information.
2008 Events
National Events
April 10-13, 2008. Equine Affire, Ohio. We will be there with 5 horses!
Local Events:
June 2008. Judged Trail Ride. Hosted at RS Paso Finos.
August 2008, DTBA. The Farmington Volunteer Fire Department parade.
August 2008, DTBA. The Fayette County Fair Open Horse Show.
August 2008, DTBA. The Sommerset County Fair Open Horse Show.
---
horses are bred for purpose, below are some events that we have participated in over the last several years. Please click on title of the page to view more photos and information regarding that particular event.
National and Local Events
National Pike Wagon Train – 2002
Old Mill Farm participated in the historical National Wagon Train that follows the historical Route 40 (National Pike). Approximately 100 horses participate annually. Molly, our first Gypsy Horse mare pulled a restored "Oiler" Wagon and Mike and Ted our Black Percheron team pulled an authentic 'Prairie Schooner" once owned by Coors Light!
Equine Affaire, OHIO March 2003
Old Mill Farm was proud to offer Guinness in the Gypsy Cob and Drum Horse Breed Demo! His manners and presentation were unsurpassed! Guinness also stood as a featured Drum Horse in the GCDHA Breed Booth.
We look forward to next year's Ohio Equine Affaire – March-25-28-2004.
Area Trail Ride – Fall 2003
Everyone with horses in the Farmington, Chalk Hill and Ohiopyle area get together annually to go on a group trail ride hosted at a local farm. It's just a fun day to kick back and enjoy a picnic lunch afterwards. The ride takes about 5 hours to complete and scans across two cities! The woods in which we ride are the same that the Battle of Fort Neccesity was fought on! Below: Rhonda, Vonnie and Daniel, with Molly on the left, Angel on the right and Dakoda's ears showing thru the trailer (if you look hard enough).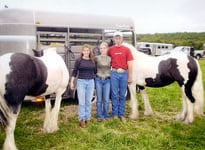 Equine Affaire in Massachusetts Nov 2003
Once again, Old Mill Farm participated in Equine Affaire Mass. Our Drum Horse Guinness and our Gypsy Horses Slainte and Angel were there as examples of the Breeds.
Old Mill Farm will participate in Equine Affaire Mass in 2004!

Equine Affaire, Ohio – March 2004
Equine Affaire in Ohio, 2004, was a great success. Guinness and Slainte participated in individual Drum Horse and Gypsy Horse Breed Demos. Apollo, Guinness' American Bred and born Colt , made his first public appearance.

Equine Extravaganza, Virginia – April 2004
Equine Extravaganza proved to be a great highlight this year! The Gypsy Cob and the Drum Horse found great exposure, and for the first time, The Gypsy Horses were out-numbered by the Drum Horses! Guinness and Slainte both participated in 2 Breed Demos, The Parade of Breeds during the evening show, Stallion Avenue and the GCDHA Breed Booth!

Somerset County Sheriff's Pose Judged Trail Ride June 2004
Old Mill Farm participated in this worthy fundraiser. We plan on participating in 2005 as well.
Farmington Volunteer Fire Department Parade August 2004
We try to get the horses out to local events as much as possible. The Farmington Parade is a community event hosted by the local volunteer fire department. The horses, as always, were well behaved and of course were a crowd pleaser!!! Here are some photos both Gypsy/Drum Horse and others from our community! (Nco's Gypsy Vanner stallion, in training with us, also participated, making this his first event. He took the 20+ horses, fire engines and sirens all in stride!)

Equine Affaire in Massachusetts Nov 11-14 2004
As expected Equine Affaire Massachusetts had one of the biggest turn outs ever! The crowd was inviting and of course were thrilled to see excellent specimens representing the Gypsy Horse breed!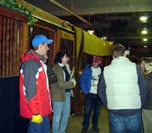 Equine Affaire, Ohio – April 2005
We had a great four sunny days at Equine Affaire! The GVHS and the GCDHA both shared a breed Demo on Thursday and on Friday the GCDHA hosted the Drum horse breed demo, with some of the nations most recognized Drum Horse's participating!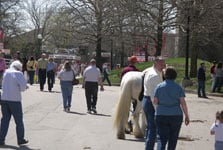 Somerset County Sheriff's Pose Judged Trail Ride June 2005
Once again Old Mill Farm participated in this fundraiser.

GVHS 2005 Ohio Show August 2005
With aproximatly 40 Gypsy Vanners, this was the largest gathering in American history for this breed! Slainte, Boromir and Angel represented Old Mill Farm at the event!
Equine Affaire, Louisville, KY- September 2005
Louisville, KY, the fourth and newest location for the countries' largest Equine based trade show, went better than expected.

Equine Affaire, Columbus Ohio, April 2005
Chew Mill Guinness, Slainte and Cobalt all participated. Each horse had at least two demos with Slainte participating in 5 over the course of 4 days! (Below, Chew Mill Guinness in the background with Slainte on the inside)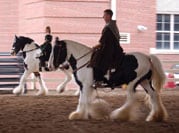 Auglaize County Fairgrounds Gypsy Vanner Show Wapakoneta, Ohio on July 8-9, 2006
1st day – Show Highlights: Vanner stallion Slainte took Reserve Champion Stallion, and won the Get of Sire class, with Darby.
2nd day – Show Highlights: Vanner Stallion Slainte took Supreme Champion Vanner and Cobalt took Reserve Champion.
Fayette County Fair Open Show, July 30, 2006
Fayette County's annual Horse show was held on July 30, 2006. We joined many local horse owners and friends of ours. We are proud to say, Slainte took 1st out of 12 Horses, mostly Quarter Horses!!!! He also took 4th in Western Pleasure, again out of a full class.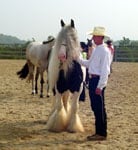 GVHS 2006 Ohio State Fair Show August 11-12
Slainte took Supreme Grand Champion, see each individual horse's page for more details.
GVHS 2006 Oklahoma Show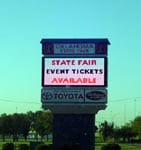 2007 Ohio Equine Affaire
Info and pictures coming soon!!!
2007 Kentucky Gypsy and Drum Horse Classic
Info and pictures coming soon!!!
---
On the Farm Here are some fun events and activites that take place on the farm.
Unable to resist a 60 degree day in January!!!! Rhonda, Daniel and Vonnie hit the trails!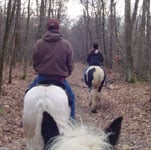 ---
Other Events – Just to list a few of the highlighted events that we have participated in.
4/2002 – Nemacolin Woodlands Open Schooling Show. Molly took 1st in the Mare Pleasure Driving Class.
4/2003 – Nemacolin Woodlands Open Schooling Show. Chew Mill Guinness took 1st out of 3 in the Open English Pleasure Class. Molly took 1st in the Mare Pleasure Driving Class.
6/2003 – Team Penning. Molly was part of a team that took 5th out of nearly 20 teams! Angel was part of a team that took 2nd at the same competition!
8/2003 – Cherokee Open Fun Show. Chew Mill Guinness took 1st out of 8 in the command class. 1st in Egg and Spoon out of 10, and 1st in bareback dollar out of 10.
10/2003 – Sommerset County Saddle Club. Chew Mill Guinness was shown saddleseat and took 4th out of 11 horses!
7/2004 – Gypsy Vanner and Drum Horse demo for the Fayette County 4-H groups. We appreciated the oportunity to introduce this group to the future horsemen and women of Fayette county. Our Drum Horse stallion, Guinness put on his saddleseat routine and Molly, one of our mares, demonstrated the Gypsy Horse's ability to drive!
7/2005 – Gypsy Vanner and Drum Horse demo for the Fayette County 4-H groups. We had even more questions the second time around! Again a BIG thank you to the Fayette County 4-H leaders for inviting us. Our stallion Slainte, was shown in hand, and was a huge hit! And Chew Mill Guinness was also in hand, due to recent surgery that Vonnie had.
6/2006 – Gypsy Vanner demonstration for UJCC Daycare and Preschool. Our Gypsy Vanner mare Angel, traveled down the mountain to visit with the children of the UJCC Daycare and Preschool program! There she visited with children ages 1 to 12! The children learned about the history of the Vanner, what her tail and mane are for, how horse shoes are put on and the difference between Western and English Tack. We were impressed with the questions that we received and how well behaved all the children were!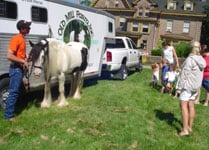 ---