Shona
"Shona"
1994 Gypsy Vanner Mare
Shona joined Old Mill Farm's her in late 2006. A Connor's bred mare, we look forward to seeing what she and the stallions of Old Mill Farm can procduce!
Below: Shona with Darby as a foal!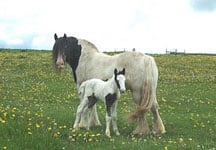 (All pictures above courtesy of Debbie Reinicke of Finnegan's Field.)
Shona below, enjoying a crisp fall morning!
---
Horse: Shona
Breed: Gypsy Vanner, Registered
Date of Birth: 1994
Height: 14.2 hands
Gender: Mare
Color: Black and White Tobiano
Sire:
Dam:
Training:
Credits: