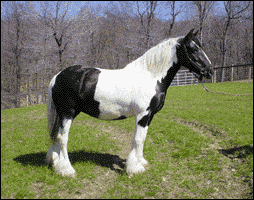 Sold Horses
Horse: OMF's Little Angel
Breed: Gypsy Vanner, Registered
Date of Birth: May, 2001
Height: 14.2 hands
Gender: Mare
Color: Black and White Tovero
Sire: Foundation
Dam: Foundation
Training: Trail Rides, Schools English and Western, drives, single and pairs. Has been team penning participated in parades, judged trail rides and shown successfully.
Credits: Conners bred. Imported as a weanling.
Price: $25,000.00 SOLD
---
Horse: OMF's Keepsake
Breed: Gypsy Vanner, Registered
Date of Birth: June, 2006
Height: Should Mature around 15-15.1 hands
Gender: Filly
Color: Black and White Tobiano
Sire: Slainte
Dam: Bonny
Training: Leads, ties, loads, stands for farrier and to be clipped. Trained Halter in the ring and pivots in hand.
Credits: 2007 Reserve Futurity Yearling Filly
See this horse in person: The LeVan's will be showing her in 2008!!.
Price: $30,000.00 SOLD
Congratulations to the LeVan Family in West Liberty Ohio! We know you will be happy with her!
(*Photo by Lonnie Durey of Marysville Ohio)
Sire notes: Her sire Slainte holds 11 total Championships! Three Supreme Grand Champion Vanner Stallion titles, 7 Champion Stallion titles and one Reserve Grand Champion Vanner win!! (This is the most domestic breed championships won by a single Gypsy Vanner, or Gypsy Cob) He was 2005's High Point Vanner and 2006 High Point Vanner in the Halter division and Reserve Overall High Point Champion. This is truly a special filly who would be equally happy in the spotlight or providing someone simple companionship!
Update:
July 2007, At the Wapak Ohio show, Keepsake took 4th in the North American Bred class (out of 12) and 2nd with Slainte in the Get of Sire class, on the first day. On the second day, Keepsake took 2nd out of 9 fillies in the Vanner Mares, 2 and under class and took 1st with Slainte in the Get of Sire class. We are very proud of this little lady!
May 2007, Keepsake took 2nd place in a class of 9 Gypsy fillies at the Annual Kentucky Gypsy and Drum Horse Classic. At the same show, she won the "Bred by Class". 🙂
---
Imperial – Drum Horse
Chew Mill Guinness x Shaky Lady
SOLD
Congratulations to Tiffany Inahara and Tim Dorsey of Dorsey Farms Moro,IL on thier purchase of Imperial.
Born May 8, 2004.
A Guinness bred Drum colt out of our mare Shaky. Imperial is Zues' full brother. Eligible for Premium Drum Horse registration, upon reaching 16hh. Nice mover, sweet natured. (Imperial was born exactly one year from Zues, almost to the hour!)
---
Finnigan – Gypsy Vanner
Sid's Good Stallion x Shaky Lady
SOLD
Congratulations to Todd and Leslie Barnes and family of OH on their purchase of Finnigan.
Finnigan is a 2002 gelding out of the now late stallion, Sid's Good Stallion (From England) and our imported mare Shaky, also deceased. His sire was one of the UK's most popular breeding stallions. Finny is about 14 hands. He clips, loads and leads quietly. Pictures shown are during a round pen sesson. "Finny" keeps our youngsters happy while being weaned, so he has been outside a majority of the time and his feather is burned off.
Finnigan has been started and is being ridden. Would make a great child's pony or driving horse.
Update: Finnigan's new family are showing him in Dressage. He has been winning his class at each competition! The last show, he even took high point horse! Congratulations to The Barne's and Finnigan's Trainer/Hander Jeanna Haggard!!! By the photo of the Chalk Board below, Finnigan even has a fan club! The picture was taken of the drawing, they are not really sure who drew it!
---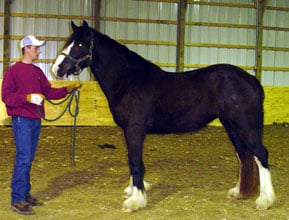 Ebony – Drum Horse
Earnshaw Ideal x Molly
SOLD
Congratulations to Jenelle in Florida!
Ebony is a 2002 Drum Horse mare out of Earnshaw Ideal (Shire- now deceased) and our Gypsy Horse mare Molly .
---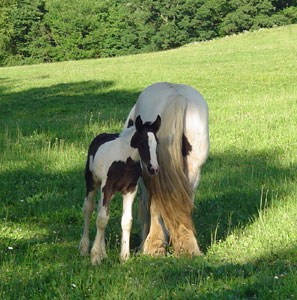 Genivee – Drum Horse
Chew Mill Guinness x Bonny
SOLD

Congratulations to the Baker's of Walnut Ridge Farm, Urbana, Maryland.
Genivee will go on to pursue a Dressage career!
Chew Mill Guinness' first US bred filly, born here at Old Mill Farm on June 3, 2004. Her dam is our large mare Bonny. This filly is a full sister to Apollo.
---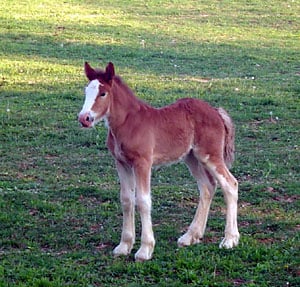 Dallis – Clydesdale
Grandview's Loomis x Ridgeview's Lady Aberdeen
SOLD
Congratulations to the Mitchell Family of Ohio!
Armageddon's Lord Elijah Granddaughter!
(Shown at 24 hours)
---
SOLD – Congratulations to HY-TYME ENTERPRISES, Apollo's new owners!
"Junior", as some of our breeder friends refer to him, is Guinness over and over! One of a handful of American Bred Drum Horses in the country, and the son of the first Drum Horse in the country…Apollo is "setting the standard".
---
Joaquin – Gypsy Vanner
Slainte x Bonny
SOLD
Congratulations to the Forfia Family in Texas!
Slainte and Bonny produced a fine colt. He was born on May 29, 2005. Click on name above to see pictures!
---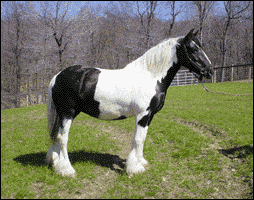 Sweet Molly Malone
Gypsy Vanner
Update: Molly has gone to live with friends of ours in VT! As much as we enjoyed Molly, she had a skin condition in which during our hot humid weather, she was miserable. With cooler temperatures up north, we are hoping that Molly will have a better quality of life.
---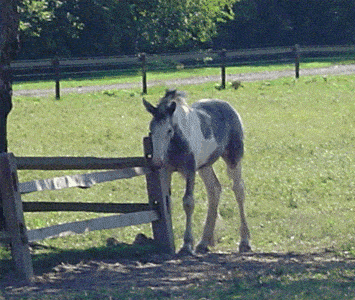 Thistle
Blue and White Drum Horse filly out of Chew Mill Guinness x Blue Bell. Super sweet filly, sure to be a welcomed addition to any home or breeding program!
SOLD
Congratulations to Brian and Sue Brown