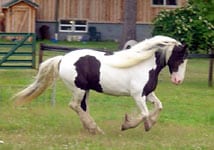 Angel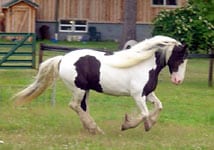 Angel
SOLD
Gypsy Vanner
Angel is a 2001 imported Gypsy Mare and is quite possibly one of the sweetest horses you will ever meet. We use her for lessons, she has been shown English and Western as well as team penning and trail riding. She also drives single and double and team-pens. Would be most suitable as a using or show mare. Can be bred via Embryo Transfer. Please contact us for more details.
Below, an Old Mill Farm student, Elyse – 10 years old, riding Angel.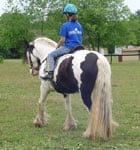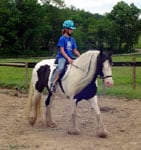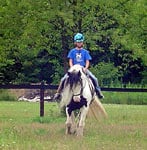 Angel on the judged trail ride. (Please excuse the photos, I was on a moving horse, taking photos of a moving horse!)
Due to a battle with septicemia from a breeding accident, Angel foundered mildly in 2004 and had the 2004-2005 season off. We are happy to say that after rigourous farrier and founder corrective trimming, Angel is 100%! We decided to take her to the Gypsy Vanner Horse Society's Ohio based show in August of 2005. You can see more of Angel next season, 2006!

Below are photos from the Ohio State GypsyVanner Society Show. Angel took 6th place in Gypsy Vanner Mares 3 and over In-Hand (out of a very full class of 12 mares, unofiicially). We were thrilled because as you can see in the photo she has no feather left! She was at a breeding farm for two months and was outside a majority of the time. She took 4th place in the Vanner Western Pleasure class, after only having been ridden twice prior to the show after nearly a year off! We couldn't have been more thrilled with this mare!!!
Pictures from Angel's early years!