Genivee
Genivee – Drum Horse
(Chew Mill Guinness x Bonny)
May – 2007. Genivee Participated in her first Dressage Show, as a three year old, and took 1st and 2nd, with scores of 66 and 67, in Intro A and B! On the right, Genivee goes driving!
We are proud to announce Guinness' first US bred filly, born here at Old Mill Farm! She was born June 3, 2004. Her dam is our large mare Bonny. This filly is a full sister to Apollo. Please check back for more updated photos, as she grows!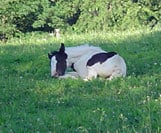 Left: Genivee at 24 hours Right: napping! Top: Genivee at 4 months old with Dam Bonny. Yearling photos coming soon!!
Photos Below were taken of Genivee as a yearling in May of 2005. Genivee was measured and is 15 hands on the dot at 1 year old.
Video One – Genivee being clipped
Video Two – Genivee being bathed
Video Three – Genivee being led