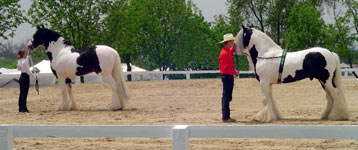 Stallions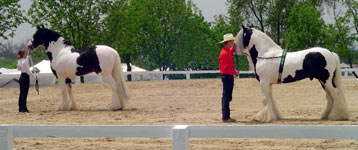 Here at Old Mill Farm, our stallions were picked with a long term goal in mind and with great thought, we do not purchase our herd stallions for resale.
Daniel and Vonnie have attended many Equine Reproduction seminars and clinics, both are certified in reproduction and work with a Colorado State University trained Reproduction Vet and Reproduction Tech. If you are looking to attend a seminar we suggest "Equine-Reproduction.com".
Slainte and Guinness play date. Outside of breeding season we occasionally turn Slainte (Vanner Stallion) and Guinness (Drum Horse Stallion) out with one another. I just happened to have my camera so decided to take a picture. ( We DO NOT suggest anyone just go out and throw their stallions with one another. They are in a secluded paddock. We have had the privilege of knowing these stallions for years. Gypsy and Drum Horses are indeed laid back, but these two do not get along because of their breeding. These individual two stallions are well socialized and their temperaments are suited for one another. Please do not try this!)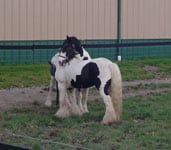 *No Photo Use Permitted. If you have a foal out of one of our stallions, please ask permission and a link back to our site will be required. Contact Us
2008 Stallion Info
-Effective 2007, Breeding Certificates will be issued after the foal is born in 2008. You will not get a certificate prior to birth, no exceptions.
-Effectively immediately, All mares and stallions coming to our breeding
---
Gypsy Horse Stallions Old Mill Farm currently has three Gypsy Vanner stallions and 2 Stallion Prospects. We believe each stallion offers something invaluable to the gene pool here in the states. Please visit each stallion's page to view more photos, videos and more information. Better yet, schedule a visit to see what we are talking about first hand!
Old Mill Farm has simply one of the finest Gypsy Horse stallions in the country! Slainte (pronounced Slawnt-cha) holds 13 Championship titles! Learn more about Slainte, registered Gypsy Vanner Horse herd stallion and what he produces!


Cobalt, a 2003 stunning young registered Gypsy Vanner stallion of impeccable conformation and character and it get's better…some of the best bloodlines available!!! Cobalt already has 8 Championship wins under his belt at a very early age!! Please contact us for 2010 Breeding information.
Old Mill Farm was not looking for a new stallion, he found us! We are pleased to announce the new stallion here at the farm, Tonka!
---
Drum Horse Stallions We offer a magnificent display of Drum Horses, personal, for sale, and sold! This new breed has been a focus for our farm since the very birth. All of our Drum Horse stock is registered with the American Drum Horse Association.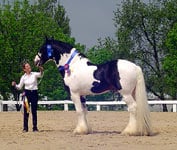 See our Registered Drum Horse herd stallion, first Drum Horse brought into the country,Chew Mill Guinness. This impressive horse is a son of Galway Warrior, once owned by the Queen of England and grand-get of "Edingale Mascot", one of the most decorated Shire stallions of all time! Guinness himself also won the Drum Horse Stallion class and the Drum Horse Championship at The Kentucky Gypsy and Drum Horse Classic May 5-6, 2007!!!