Tonka
| | |
| --- | --- |
| | |
---
Tonka is our newest addtion, having been imported in November of 2007.
We look forward to adding more to this page and updating photos. Check back soon!
Additonal Photos
Rhonda meeting Tonka for the first time!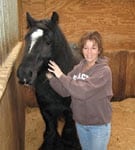 Tonka playing in the snow!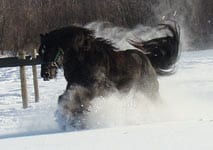 All of the photos below are provided by Remmepark.com (Fran Scott). The photos may not be used without her permission. Fran was the first person from the US to see Tonka in person while still in the UK!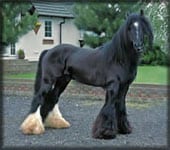 ---
Tonka's Story
Well I can't say we embarked on a long and stressful search for a stallion, because we didn't, it just sort of happened!! What we were looking for was a top notch mare (or two).
During our search for a mare, which started in July of 2007, Fran Scott and Bobbi Bowie visited us. During their visit the topic of us looking for a mare came up, in which both almost in sync said "did you contact Andrea Betteridge?" Well we had met Andrea in the past and of course have been on her website, but it never really dawned on us to import (another) mare. Fran had told me that there was a full sister to her stallion, out of Tonka available. We contacted Andrea the next day (as did Fran) and I received an email with several fillies, but no info. I picked the very last filly on the list and asked Andrea to send more pics and info, which I later found out was Olivia, Val's full sister of course out of Tonka! Shortly after, Fran emailed me pictures of Olivia, the same filly I had picked out of Andrea's email!! Well Rhonda and I (Vonnie) talked it over with Fred and Daniel and we all agreed Olivia would be a good purchase, but we wanted to see more photos of Tonka, which Andrea sent me more of him driving and Fran sent me more from her visit to the UK. Well, I immediately sent them to Rhoda and said "LOOK at this stallion"…I had heard at one point he was for sale…so I included "It's rumored he is for sale"! Rhonda almost immediately emailed me back and said "We HAVE to have this stallion, find out if he is available". To make a long story short, Fred very graciously humored us, mostly Rhonda who was bound and determined to buy this stallion 🙂 and over the next few days we worked out a price and Tonka was on his way to the US!
We have since received 20+ emails on this stallion! We want to thank everyone for the congratulations and interest! We truly feel blessed to have him at Old Mill Farm! At this time we feel it is in his and his offspring's best interest not to stand him to the public.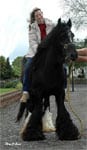 Above: Fran during her visit loving up on Tonka and even getting to sit on him!