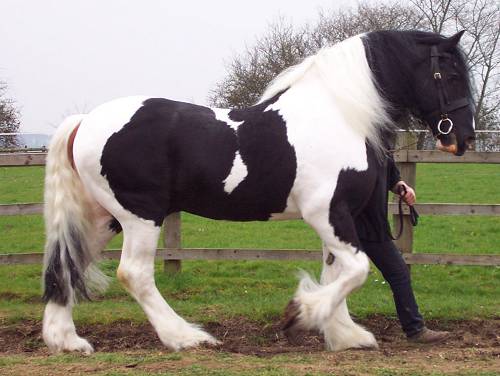 Chew Mill Guinness
Additonal Photos
---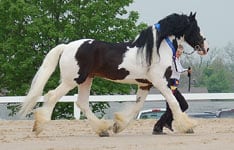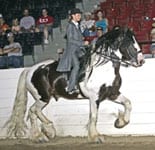 Pictures below were taken by Fran Scott. Visit her website. (These photos may not be used without her permission)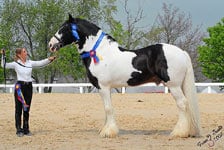 Imported from the UK in 2002, Guinness already has foals on the ground both here and in England. His bone, temperament, athletic abilities and awesome, natural action are passed down to his offspring.
Guinness is shown Saddleseat, and has made appearances at many parades, events and shows. He has never lost a command class!! The crowds just love him. In Spring 2004, he learned how to Drive.
---
The Guinness Story
Chew Mill Guinness was bred by John and Frances McCormick of Chew Mill Farm in England. He is by Galway Warrior (Shire x Gypsy Horse) and out of West House's Blossom (Clyde x Shire). They were kind enough to provide us with some foal photos of Guinness! (A big THANK YOU to them!)
Below: Guinness as a foal with his dam Blossom
Below: Guinness in his first show as a two year old, taking the red ribbon. (first place over there)
Below: Left: Guinness' dam, Blossom. Right: Sire Galway Warrior (courtesy BFS Gypsy Horses)
*We were recently contacted by Blossom's current owner and they have decided to offer her for sale. If interested please contact us, and will be happy to pass their info on! This is a phenomenal mare! She is located in Sweden
Guinness arrived at our farm in April of 2002. He was the first true drum horse stallion in North America. The second is his sire, Galway Warrior, who was imported into the US in July, 2002. Galway Warrior was once owned by Her Majesty The Queen and performed the duties of a drum horse in the Royal Processions, as well as his siring duties in the Royal Stud at Windsor. Guinness' grandsire is the immortal Champion Shire Stallion, Edingale Mascot (18.3 hands, winner of the National Shire Horse Show on several occasions before export to the USA).
Guinness began very light training shortly after coming to America. He was shown briefly in Huntseat, at basically any class that we could get entered. We then came across an Open show that had an Open English Pleasure class, we took Guinness and for the first time entered him into a Saddleseat, Three Gaited class! He took 4th out of 15 horses!!! We decided that day, he would from there on out be ridden Saddleseat. Of course we still do fun things (for Vonnie anyway) such as trail ride, school Dressage and we even jump 2'6″. (Pictures coming!!)
Guinness has spectacular charisma and such character, we feel truly blessed to be involved with this stallion. His foals are following in his footsteps.