Mares of Old Mill Farm
Photos of all mares will be updated in the Spring of 2009. Please check back!!
Old Mill Farm is excited to announce we have added three new mares to our herd! Pictures coming soon.
While most breeders place a majority of emphasis on breeding stallions, Old Mill Farm realizes that breeding mares are just as important, if not, more so. We purchase our mares for temperment, conformation, natural movement and athletic ability. All of our mares are trained in at least one discipline.
**Please note: all of our horses "are horses". We do not keep our horses stalled unless it is necessary, so their feather may be burned, their manes may be a little chewed off by another horse, but they are all happy and healthy! We put our horses well-being ahead of our desire to have clean "perfect" looking horses! 🙂
To go to each Mare's individual page, click on their name or photo.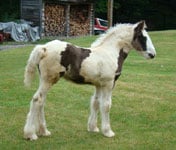 "Sally" (Reg name pending)
Out of a Slainte daughter (Darby) and by Cobalt! OMF has decided to keep this filly.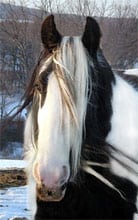 Bonny has foaled a stunning Gypsy Vanner colt out of Cobalt! See him on our sales page.