Gypsy Vanner Stallion Cobalt Just for fun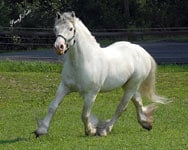 ---
What color is he again? That's the question we get most often…no he is not white! He is genetically Black!!! He was tested by UC Davis and is homozygous, so all foals will be Black and White (either much desired Blagdons or Tobiano) or Black. His color is officially called "Maximum Sabino or Blue Sabino". In other words, Cobalt has the most amount of white as a blagdon horse can! The reproduction possibilities are almost endless with this stallion!
When you are up close, he has black spots on his skin and his coat, mane and tail look "salt and pepper"
---
Cobalt, Laurel Highland Highschool's Mascot!
Local Highschool, Laurel Highlands Mustangs, were in search of a mascot and asked Old Mill Farm if we would be willing to "lend" them one. OK, so Cobalt isn't a Mustang…but he was up to the task. 🙂 (In his defense, it was raining and very muddy out!) Look for more pictures in the near future!!
Cobalt's first Group Trail Ride
Unable to resist a 60 degree day in January!!!! Rhonda, Daniel and Vonnie hit the trails!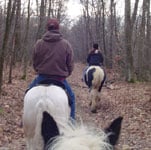 Cobalt gets to play in his first stream crossing!
---
Equine Affaire in Ohio, 200
This was Cobalt's first big event! He also participated in 4 Breed Demos under saddle! He was an amazing representative for the breed. We are very proud of this young boy!