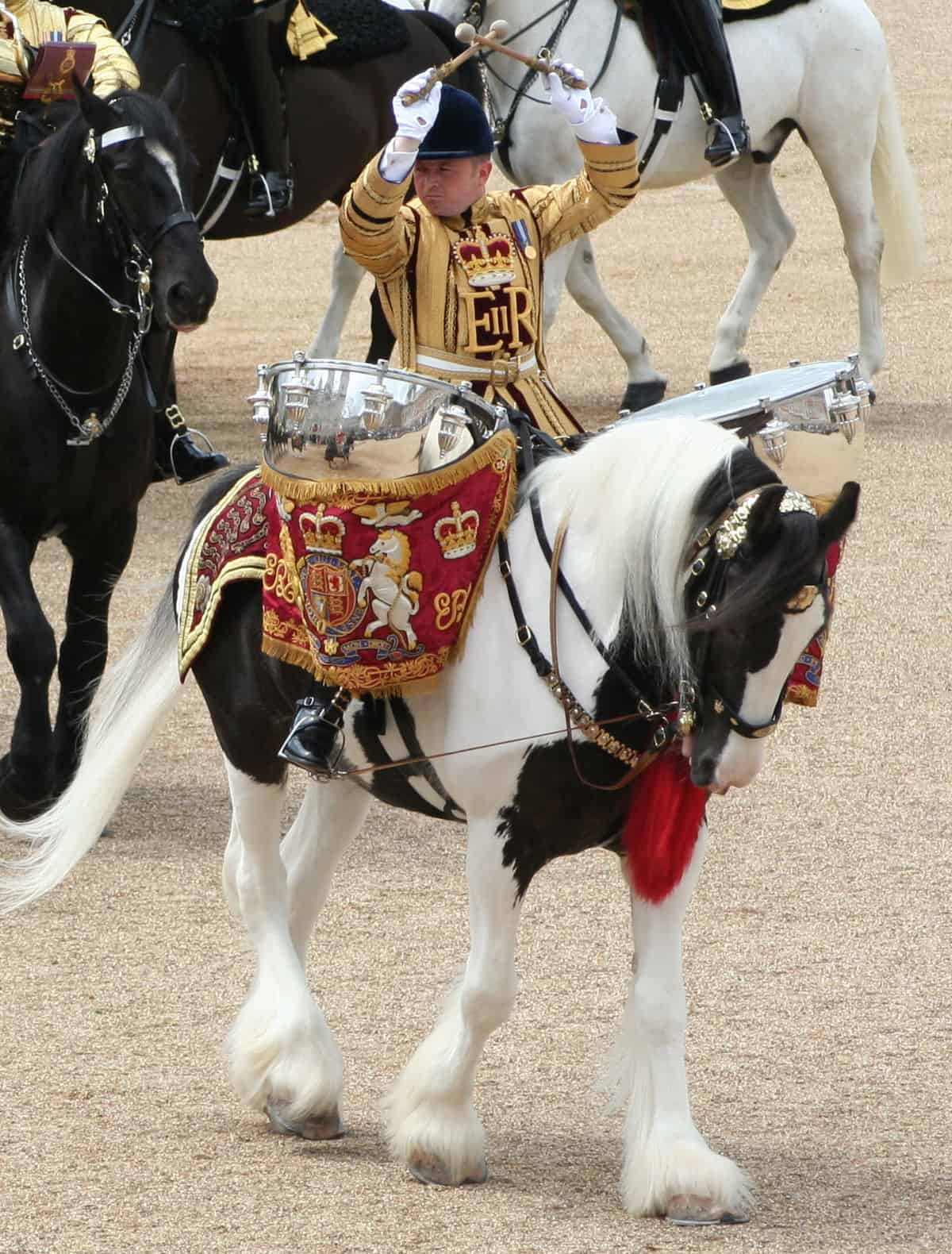 Chew Mill Guinness

–17.1 Double Registered Approved Drum Horse Stallion.
–Registered and Graded stallion with the British Skewbald and Piebald Association.
– Gypsy Cob and Drum Horse Association Registered Premium Foundation Drum Horse

-Guinness was the first Drum Horse in the states!
See Guinness playing in his field! Click the videos below.*videos should play in any media player or download Real Player
Imported from the UK in 2002, Guinness already has foals on the ground both here and in England. His bone, temperament, athletic abilities and awesome, natural action are passed down to his offspring.
Guinness is shown Saddleseat, and has made appearances at many parades, events and shows. He has never lost a command class!! The crowds just love him. In Spring 2004, he will begin training to drive.
If you are looking to breed for Temperament, Substance, and Athletic ability, Guinness is the perfect choice.
What he produces: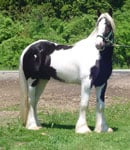 Apollo: Drum Horse Colt. See more of Apollo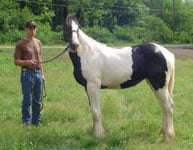 Genivee: Drum Horse Filly. See more of Genivee

Thistle: Drum Horse Filly. See more of Thistle
View all of Guinness' Offspring

2005: Guinness' first shipment conception rate was 80%. His total conception rate resulted in all but one mare bred. His Live Cover or on farm insemination conception is 100% on the first cylce.
Now available DVD or VHS of Guinness and offspring.
What breeds are eligible for registration?
The Guinness Story
Guinness was the FIRST true drum horse stallion in North America. The second is his notable sire, Galway Warrior, who was imported into the US in July, 2002. Galway Warrior was once owned by Her Majesty The Queen and performed the duties of a drum horse in the Royal Processions, as well as his siring duties in the Royal Stud at Windsor. Guinness' grandsire is the immortal Champion Shire Stallion, Edingale Mascot (18.3 hands, winner of the National Shire Horse Show on several occasions before export to the USA). Guinness' dam is an SHS registered Shire mare. Guinness is more than 3/4 shire horse, and GOOD shire horse at that!
Guinness has had an illustrious show career, winning halter classes throughout the UK, defeating horses of all breeds and ages. As only a 4 year old, Guinness is not finished filling out and developing. He will be a massive horse when he's finished, but with beautifully clean legs and joints, and with the highest quality, bone that you will find on any breed of horse.
This stallion has wonderful movement, and a disposition that can't be beat. He is a big puppy dog, and just loves attention. He also is nearly unflappable, you can go down the busiest road in the city with him, and he just does what he's told. He's joy to be around.
Photos taken on March 24, 2002, before Guinness turned 4 years old