~Announcements ~
Old Mill Farm will be hosting an "Open House" late Spring 2010. Prospective Gypsy Vanner owners may come meet and interact with our foundation mares, stallions, horses for sale and 2009/2010 foals. Test rides can be arranged for our mature stock available for sale.
We encourage interested parties to contact us for additional information. For current horses available, please visit our Sales page.
Dates will be posted soon.
Old Mill Farm Videos now available. Email to request one!
To see more pictures and get more information on the Gypsy and Drum horses listed below, Please click on their name or photo.
By Sire / Current Horses for Sale by Breed
________________________________________________________________________________
Slainte Foals

*Most Vanner Championships earned in the US, to date. Limited offspring available. Not available for public breeding.
Contact us for available Slainte foals in 2010.
---
Cobalt Foals
*Multi-Champion Vanner. Limited offspring on the ground. Available for limited public breeding.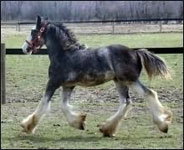 Horse: OMF's Lasting Impression
2007 Gypsy vanner Gelding
Performance minded, ideal youth prospect. Icon, at The Feathered Horse Classic in Perry, Georgia, October 10-13, 2008, took 1st place in Open Showmanship ( roughly 16 in the class) with his Youth handler and 1st in Youth Halter. A huge Thank You to Tyler LeVan of Hidden Valley Farm who showed Icon and did so well.
Cobalt x Bella
Will be on the larger side around 15.2 hands. Will be ready in September.
Born April 4, 2009. Pictured at 2 days old.
---
Tonka Foals

* Limited offspring on the ground. Not available to outside mares.
*This is the first OMF bred colt offered as a breeding prospect!


_________________________________________________________________________
Chew Mill Guinness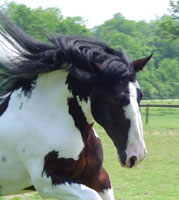 *2007 GH & DH Classic Drum Horse Stallion. First Drum Horse in America. Sire of the highest selling American bred and born Drum Horse colt. Limited offspring available.Available to limited outside mare.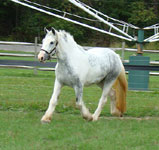 Horse: OMF's Blue Thistle
: Lineage on Dam's side can be traced to the Queen of England. Sire, Guinness was the first Drum Horse in the country. Nice mover, lots of natural push. With some addtional work, would do well in lower level dressage!
2009 Guinness Filly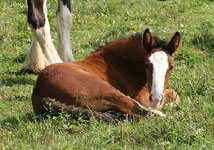 Outside Stallions
Rides and Drive.
16.3 hands. Riding pictures coming soon!
Ride and Drive gelding.
14.1 hands. Has been shown, trailrides and drive both single and double.
*Prices and availability are subject to change without notice.
Old Mill Farm's Expectant 2010 Foals
2010 Slainte foals
Slainte x Olivia = Gypsy Vanner
Slainte x Bonny = Gypsy Vanner
Slainte x Heart = Gypsy Vanner
Slainte x Flower = Gypsy Vanner
_________________________________________________________________________

2010 Cobalt foals
Cobalt x Teddy = Gypsy Vanner
Cobalt x Bella = Gypsy Vanner
Cobalt x Darby = Gypsy Vanner
_________________________________________________________________________

2010 Guinness foals
Guinness x Lady = Drum Horse
*Some breedings may be the result of ET.
All Gypsy Horses, Drum Horses and other Sales Horses are up to date on all vaccinations, and are on a bi-monthly worming and 6-8 week farrier schedule. Gypsy Horses and Drum Horses sold as geldings will be gelded at no charge prior to the horse leaving the farm. Horses over two years of age typically are started, long lining and may be working under saddle. (A majority of the Gypsy Horses and Drum Horses are not working under saddle until three years of age) Most of our older stock have also been shown either in hand or under saddle. Horses are guaranteed to be in good health and injury free at the time of sale.
There is a great selection of horses here in the states. Domestic horses typically have better care, are in better condition and are easier to view. If you look around, you most likely will find the Gypsy Horse or Drum Horse of your dreams in your back yard! We strongly suggest buyers avoid purchasing via pictures alone. It is very easy to manipulate a horse's conformation in photos simply be taking the photo at various angles.
A note on purchasing horses overseas:
Gypsy Horses in the UK are often bred for trade sales. If you come across an inexpensive import horse that sounds too good to be true, it probably is. It is best to research your seller and spend a little more money for a quality horse. Beware of low priced package deals and "perfect" horses.
If at all possible, be involved in the import details. Ensure that the horse you paid for is actually going to ship. Always get all deals in writing and have a physical address and contact number for the seller.
If getting a vet check on a horse, and we strongly suggest a pre-purchase exam, get the vet check in writing, prior to any money exchanging hands. (Of course you would be responsible to pay for the vet check!) Contact the vet in person if possible to speak to him regarding his health examination. If the horse is at riding age, request x-rays be done on all four legs. If you are purchasing breeding stock, get a full breeding soundness exam in writing. Request the horse's breeding history as well.
Prior to the vet exam, request the vet check the horse's legs under the feather for rolls of skin, sores or lumps. Also ask him to check the horse's dental and bite alignment, very often over looked.
Before purchasing a Gypsy Horse or a Drum Horse, Domestic or abroad, be sure it can be registered, if it is not already. Contact a Gypsy Horse (or Drum Horse registry) to make sure the horse will qualify. We have chosen to register with the American Drum Horse Association and The Gypsy Vanner Horse Society. Our foundation horses are also registered with the GCDHA.
If color is important to you and you are purchasing a Homozygous horse, be sure to get a copy of the DNA Marker test results, as well as from the sire and dam. (To date, there is NO direct DNA test for Homozygous Tobiano coloring) Tests are most accurate when markers are available from sire and dam as well as the horse in question. No test is 100% and even homozygous horses will on occasion produce a solid, also known as a slipped Tobiano. Judge the horse by conformation, disposition, suitability for use and then color!
A note on Chronic Progressive Lymphadema (aka, CPL): First thing to mention, there is not a lot known about this condition. Some believe it is an immunodeficiency disease/disorder, some believe it is a major case of scratches that have been improperly cared for or neglected all together. Upon speaking with both Irish and English breeders as well as consulting with our Equine Vet, because these horses have so much hair, and a majority of it is incredibly dense, a good portion of the breed with "a lot" of hair will develop a skin condition eventually. What is not normal? Grape size sores that are open and do not heal, and have a bad odor to them. Most horses with this condition have large skin rolls that have hardened. This may occur because the elasticity the skin normally has, is lost and/or because of scar tissue forming. The skin rolls, however may be present with several other skin conditions. It is our opinion, that if someone is looking at a horse with this condition, it should be avoided, due to the additional care and expense that would go into treating the horse to keep it comfortable and free of breakouts. However, there is NO evidence that this condition is hereditary, genetic or lethal. Of course we suggest that you contact your vet to learn more.
Lineage: Most of the imported horses, openly, come with no known pedigree due to the lack of importance the "gypsy people" place on "naming" their horses and partly do to the lack of education that they receive. However, many of the horses coming over are being sold with known lineage. If a breeder is claiming known lineage on a horse that goes several generations back, be cautious, it could be a sales tactic. Unless you have DNA proof...you don't know who the sire and dam are.
In some instances, the breeder or seller may be honest, and may even have those horses on his farm, if that is the case, ask for hair samples so that it may be submitted to your chosen USA registry to prove your horse's lineage. Currently, at least two of the US registries are noted on a horse's papers if the DNA is on file, if you claim a horse's lineage. So even if your horse comes with lineage information, if it is not proven via DNA testing, it is not officially recognized by some of the US registries.
What to expect when purchasing a Drum Horse or a Gypsy Cob or Vanner
Gypsy and Drum Horse Merchandise
A collection of fine Gypsy Horse and Drum Horse Merchandise.
We accept Personal Check, Money Order or Paypal.