*Please note that this is a PARTIAL list. These are the photos that have been graciously provided by the owners of the horse listed or we manage to take them when we can. We appreciate any photos received! If you have a Slainte offspring, please send us the photo and/or a link to your site and we will happily add it!
Gypsy Vanners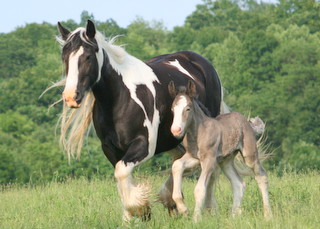 OMF's Sweet Karabrook

Bred and born at Old Mill farm 2012 filly

OMF's Slainte's Shandor

2012 colt

OMF's Slainte's Dream Maker

2012 colt

OMF's Slainte's Gabriel 2011colt
OMF's Champagne Toast 2010 filly
OMF's Cali 2010 filly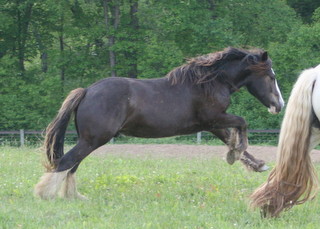 OMF's Mackeson XXX Stout 2010 colt
Aurora Acres Tir Na Nog
Tieg
Celtic Charm
Slainte x Bonny colt
Tango
Genivee
2007 Gypsy Colt
(Affectionatly called "Football" by the Burn's children!)
Charm.
Owned and bred by The Widmars in PA.
OMF's Keepsake
(Bred by Old Mill Farm, now owned by the LeVan Family of Ohio)
Joaquin - bred by Old Mill Farm.
Foaled 5/05 by Slainte out of Bonny.
This gelding colt has been purchased by the Forfia Family of TX.
"Sainte Slainte"
Gypsy Vanner colt
Foaled 5/05 by Slainte & out Fizz.
Owned by C. Dutton, MD

This colt was sold as a weanling at under a week old! (Shown here at 8 days)
Darby
Foaled 5/28/04 by Gypsy Vanners Slainte & Shona.

Below: Darby as a late yearling in 2005.
Antonio
Big Sky Lager - Drum Horse
Slainte x BSG Belle
Solid Drum Horse gelding.