Gypsy and Drum Horse Geldings
2002 Registered Gypsy Vanner
Boromir arrived from England on October 2, 2004! Look for Boromir and Rhonda at Equine Events in 2005 and 2006.
Sire: Farm Lane Darius by Romany Rai (Hair to Spare)
Dam: Kira (Vines Bred Mare)
His great grandsire was the "Old Black Horse of Ireland" thru his Grand-dam Romany Bay.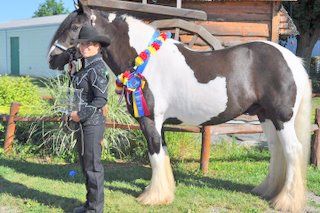 Dobbin
2002 Registered Gypsy Vanner Gelding
Dobbin was imported inutero and born at Old Mill Farm.
Sire: Sid's Good Stallion (deceased)
Dam: Bonny
Although we plan to use Dobbin for pleasure, he will also be shown at Vanner shows lightly in driving and riding!
Tullivan Coco
Registered, 8 Year old Gypsy Vanner Gelding.
Coco came to us to be sold on consignment…but Fred ended up liking him, so Coco is staying! Coco was purchased from Stonehill Farm, Bruce Springsteen's farm.
Coco is an imported registered Vanner gelding that has been state side for almost two years. Tons of feather for a gelding, ample tail and mane as well.
Very traditional Vanner and size you can't find easily, standing at 15.2 hands! Great work ethic, enjoys people and is very social with other horses. This is the type of horse that you can do nothing with for months and pull out of the field, and he never misses a beat!!
Drum Horses
Drum Horse

Meet Guinness' first Drum Horse foal born in the US, Zeus!

Sire: Chew Mill Guinness

Dam: Shaky Lady (deceased)

Zeus Pictured at 15 months.