Old Mill Farm, Inc. is nestled in the Laurel Highlands of Western Pennsylvania. Consisting of more than 500 acres and adjacent to miles of trail, it is the perfect setting for a multifacited Equine Facility.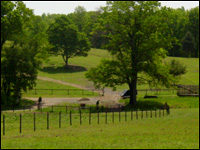 About us
In 2001, Old Mill Farm founders and owners, Fred and Rhonda Zeigler were perusing a popular book store, when they stumbled upon a calendar containing horses that could only be described as something that one would dream about. From this calendar they embarked upon a journey, of research and development of two new breeds here in the United States, The Gypsy Horse and The Drum Horse.
Old Mill Farm's Mission as a Equine Facility
Our goal as a team is to breed and acquire some of the finest stock available in the country and we have surpassed our goal. Focusing on quality offspring and not quantity. All of our horses privately bred with a purpose, They are not just market horses.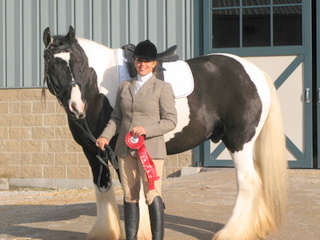 The most important things in my life are not material possessions, they are my family and friends. But I discovered I have a great passion for horses. Breeding them and finding them the perfect home gives me a great deal of satisfaction. Our work just begins when a healthy foal is born. It is our responsibility to educate the youngster from the start. Talent is nothing without a trainable attitude. We take great pride in producing young stock that not only have great potential, but are also a pleasure to own.
We hope you enjoy browsing our site and please feel free to contact us with any questions.
---
Welcome to our world.......
Our training focuses on natural methods, to ensure an excellent learning experience for both horse and horse owner.
Some of the horses we has trained at Old Mill Farm that you may have heard of! ( Please see stallion pages to see all the updated championships here at Old Mill Farm. This is a very out-dated list of our championships, we hold over 40 championships with three stallions. )
"Slainte" ( As early as 2005 our first year ) Gypsy Vanner stallion who won 3 Supreme Grand Championships and One Reserve Championship at sanctioned GVHS shows across the country. To date, Slainte holds the most domestic won championships. He holds 17 championships up to 2009. Just last year 2010 he won a Reserve Grand Championship at the age of 16 ! (Sadly we lost Slainte to Colic in Dec 2012. )
"Cobalt", As a three year old, Cobalt already has a Reserve Grand Championship and a Supreme Grand Championship, as well as winning two and placing in the top and placing in all of his performance classes. He has also held Supreme Grand Championships from 2005 to 2010. Every year this stallion has placed at the top ! Holding more than 11 championships to date.
"The Headliner", Who was here to be started, owned by N'CO Gypsy Vanners, seen in the top halter placings at the Gypsy Vanner Horse Society's Gypsy Vanner horse show in Ohio, August 2005 and the winner of the largest class.
"Roamie", Horse Illustrated's centerfold Gypsy Vanner! Owned by Jacque in MA.
Listed on our sales page are many horses sold and or trained here.
We work side by side with our veterinarian who specializes in Equine-Reproduction and is one of the finest vets in the country. Our mares receive the best care possible and are in the best shape both reproductively and physically.
Want to own your very own Gypsy treasure or rare Drum Horse?
We offer quality Gypsy and Drum Horses for sale. If you don't find what you're looking for at our stables, we will help you find find it or put you in contact with a reputable breeder/agent. 2014 I had my stallions Guinness, Cobalt and Gideon collected and frozen. I also sold all mares except two , and also kept two geldings. I decided that year to slow down and smell the roses. I am now am only foaling two offspring a year if that. Our herd was sold to Eliz Campbell at Shepherds Grace Ranch in TX. Where they will go on to be shown and produce the rare hard to find lines we worked over 13 yrs to produce.
Visit our Sales Page for our current sale's list.
Want to breed your own?
Guinness ( Drum stallion ) Cobalt ( Gypsy Stallion ) along with a Slainte young stallion are being stood to approved mares. All now live in Dodd TX owned by Eliz Campbell at Shepherds Grace Ranch. www.shepherdsgraceranch.com Eliz will continue our meticulous Multi-Champion lines.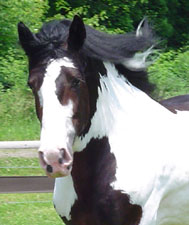 Old Mill Farm is home to 12 to 25 horses at any given time. The farm features 4 large horse barns. ( downsized to 5 Gypsy now,
Our newly remodeled barn consists of 2 foaling stalls, 2 quarantine stalls, 8 10x10 box stalls, a heated tack room and an indoor and outdoor wash rack. Adjacent to the barn are 3 paddocks and a 50 acre pasture with 3 natural water sources and shade trees.
The new Monitor style barn (aka "the Training Barn") is 36' x 60' and houses 12-12 x 12 stalls. The stall walls are "double" lined with kick boards and finishing board. The entire barn is constructed out of cedar. Also housed are a heated tack room / bathroom /office and utility room.
Adjacent to the training barn is an 80 x 240 indoor riding arena, lined with mirrors on one side of the area and an overhead sprinkler system, Elevated viewing room, sound system, full bathroom with changing area and computerized lighting. Our outside facilities include a 6 horse hot walker and 60' Priefert Round Pen. We are proud to say we have one of the most state of the art, privately owned indoor arena/training centers around.
In April of 2007 Old Mill Farm added two more stables with an additional 17 stalls! Along with the two barns, came another indoor and an outdoor all on about 18 acres of additional paddocks.
Stalls in all 4 barns are lined in 2 inch rubber for the horse's comfort. Our barns are also fitted with technologically advanced fire security features and smoke alarms.
To complete our breeding facility, the addition of a "breeding shed" has also been added. This houses our own collection lab, phantom, palpation stocks, critical foal unit and foaling stalls equipped with foaling alarms.
( We no longer do outside breeding's ) Please contact Eliz Campbell www.shepherdsgraceranch.com for breeding stallions listed.
Contact us for more information or to arrange a tour.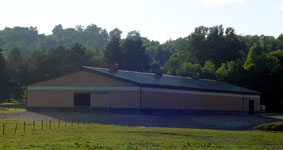 Below: The newly built Monitor Style Barn.
Below: Some inside shots of our Indoor Arena.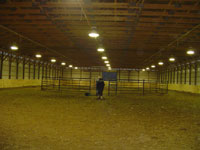 Below, left to right:
A few of the Preifert Stalls; The entrance into the Indoor Arena and Our elevated
Viewing Room with Office; Bathroom/Changing Room and Storage Room.
Below: An inside look of our elevated viewing area, which overlooks the indoor arena.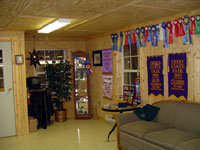 Below: Our 6 Horse Hot Walker.
Field and misc. secnic photos
Below: Our Barn decorated for Christmas!