$17,000.00 SOLD
14.2 h, Registered Gypsy Vanner gelding.
Boromir arrived from England on October 2, 2004. He began training shortly after and has attended a few shows since then. Works very well in the ring and drives, but he enjoys and prefers trailriding and has a great work ethic. Boromir has also been exposed to a few small county parades and even participated in a few judged trail rides! Of course he also stands quietly in the cross-ties, for the farrier, ties, loads and travels well and is utd on farrier and vet.
Prospect for the beginner to advanced rider.
$17,000.00 (will include transport)
Videos below
(Videos may take a few minutes to load depending on internet service. Allow video to load and then replay if video is playing intermittently)
Sire: Farm Lane Darius by Romany Rai (Hair to Spare)
Dam: Kira (Vines Bred Mare)
His great grandsire was the "Old Black Horse of Ireland" thru his Grand-dam Romany Bay.
One of our "Group Trail-Rides" Rhonda on Boromir. (In the red)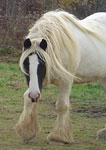 Boromir shown here in the field relaxing.
Rhonda and Boromir took the opportunity to show at the Gypsy Vanner Horse Society's Ohio horse show. Boromir was only one of three geldings there, but did an excellent job for only his second time at a show of this caliper. This too was Rhonda's first judged show, and she also was flawless!! Unfortunately because everyone was running around getting horses ready for the show...there were three of us and three horses with a very full day of classes, we didn't get many photos (Rhonda is our designated, "photographer!), so here is a professional photo taken by Brian Richman. (Yes, that's Rhonda hiding behind Boromir!!) Boromir took 2nd place in the gelding halter class.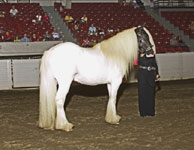 We had a short spell of fairly warm weather and it wasn't raining, so Rhonda took the opportunity to snap some shots of Boromir out in the field! Enjoy.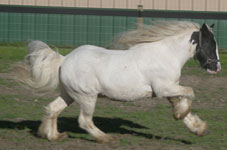 And finally, a picture with Rhonda and Boromir