Multi-Supreme Grand Champion Gypsy Stallion
A 2003 stunning Multi Supreme Grand Champion Gypsy Vanner Stallion of impeccable conformation and character and it get's better...some of the best bloodlines available! Cobalt has multi Championship wins under his belt. He is a rare color. He is genetically black, but extremely highly expressed sabino (blagdon). This means he can sire black and white foals, blagdon foals, highly expressed blagdon foals like himself, or foals with black points. His reproduction possibilities are endless.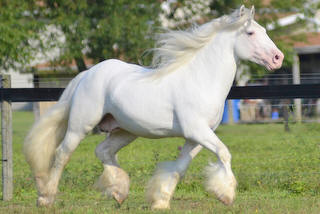 Multi-Supreme Grand Champion Drum Stallion
Chew Mill Guinness
The first and the finest Drum horse in America. Chew Mill Guinness. This new breed has been a focus for our farm since the very birth.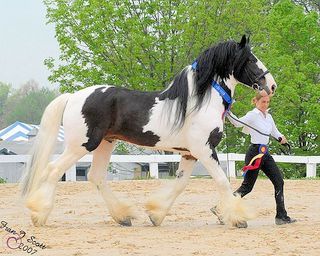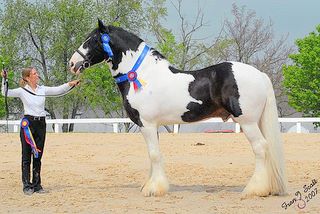 ( click on name below to see more photos of Guinness )
Guinness arrived at our farm in April of 2002. He was the first true drum horse stallion in North America. The second is his sire, Galway Warrior, who was imported into the US in July, 2002. This impressive horse is a son of Galway Warrior, once owned by the Queen of England and grand-get of "Edingale Mascot," one of the most decorated Shire stallions of all time! Guinness himself also winning Drum Horse Stallion class's starting back May 5-6, 2007 at the Drum Horse Championships The Kentucky Gypsy and Drum Horse Show , NE Feathered Horse Classic 2012 Drum Horse Stallion along with 5 other champion 1st place blue ribbons!
ADHA reg # D0103S, DNA # H06-03501
GCDHA reg:# FD1981014SPS , Classification: Premium Drum Horse
Inspected and graded Premium with the BSPA in the UK
At Liberty Video (This is a series of short video clips of all of our stallions. It will redirect you to You Tube)
.*videos should play in any media player or download Real Player
At Liberty Video (This is a series of short video clips of all of our stallions. It will redirect you to You Tube)
We have offered a magnificent display of Drum Horses, personal, for sale, This new breed has been a focus for our farm since the very birth. All of our Drum Horse stock is registered with the International Drum Horse Association IDHA. At this time we do not have any Drum foals available. Please contact Eliz Campbell at www.shepherdsgracefarm.com for Guinness offspring available.
- Stallions who have passed -
Never to be forgotten and lives on in our mare Darby and her offspring.
SLAINTE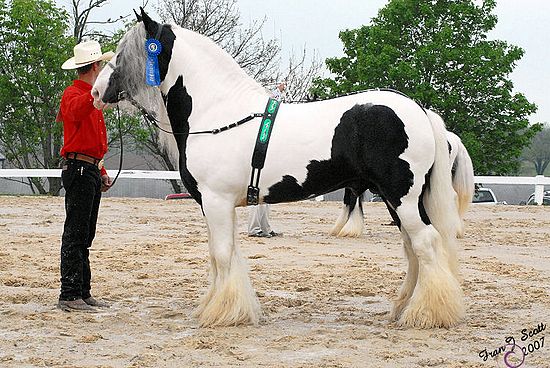 Old Mill Farm had simply one of the finest Gypsy Horse stallions in the World! Slainte (pronounced Slawnt-cha) No matter how you looked at him, this stallion had amazing presence and character. Slainte was the epitome of what a Gypsy Vanner should be. Black and White Tobiano (Heterozygous for the Tobiano gene).
A Multi Supreme Grand Champion Stallion. He was triple registrated ,with the Gypsy Vanner Horse Society, Gypsy Cob and Drum Horse Association and the Irish Cob Society in the UK where he was approved and registered, receiving the highest inspection marks up to that point, Slainte was the most consistently placed Gypsy Vanner, in halter classes and placing well in all of his performance classes not to mention a We are thankful to have his offspring. He will live on in them. He will forever be missed and forever in our hearts.
- The world will never forget, he lives on in our mare Olivia and her offspring.
TONKA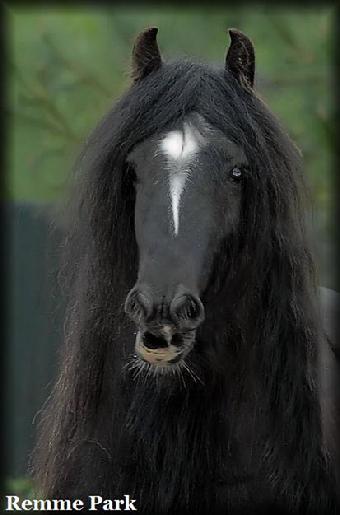 We lost our sweet Tonka Dec 3, 2010
Tonka the unforgettable one and only will never be forgotten.
Tonka's Story
Well I can't say we embarked on a long and stressful search for a stallion, because we didn't, it just sort of happened. What we were looking for was a top notch mare (or two). During our search for a mare, which started in July of 2007, Fran and Bobbi visited us. During their visit the topic of us looking for a mare came up, in which both almost in sync said "did you contact Andrea ?" Well we had met Andrea in the past, but it never really dawned on us to import (another) mare. Fran had told us that there was a full sister to her stallion, from Tonka, available. We contacted Andrea the next day and I received an email with several fillys, but no info. I picked the very last filly on the list and asked Andrea to send more pics and info, which I later found out was Olivia, Val's full sister of course out of Tonka! Shortly after, Fran emailed me pictures of Olivia, the same filly I had picked out of Andrea's email. After seeing Olivia, I had to have her join the herd, but we wanted to see more photos of Tonka, which Andrea sent me more of him driving and Fran sent me more from her visit to the UK. It was rumored Tonka was for sale. I immediately knew I had to have this perfect unbelievable stallion. To make a long story short, I was bound and determined to buy this stallion. Fred (my husband) very graciously gifted me Tonka. And over the next few days we worked out a price and Tonka was on his way to the US. Tonka lives on in Olivia, OMF's Tonka's Last Legend, OMF's I've Got Assets and OMF's Sweet Karabrook here on our farm.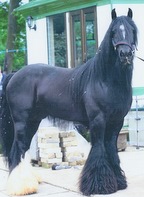 ---
Not sure what color you will get ? Read our simplified genotyping page.