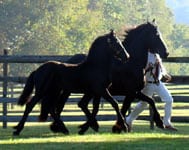 Zima
Zephinia fan Old Mill (aka "Zima") 2nd Premie
Teade 392 x Aanhya
*Realizing that we can not support three breeds by being active in each, we have decided to offer Zima for sale. $14,000.00
Zima received from FHANA, a 2nd Premium at The Iron Springs Farm Keuring on October 2nd, 2007! There were only a handful of fillies that did better than 3rd and several that did not get a premium at all. We are so proud of her and must thank the Griffen's who handled them!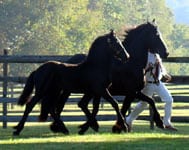 This filly's full sibling, owned and bred by Big Pine Farm (Also Aahnya's owners) took Grand Champion colt at the 2005 Keuring in Ocala FL. And given Teade's foal's track record producing Grand Champion fillies and colts…we expect a lot from this little gal!
* Teade, her sire, was approved on Offspring by the FPS in December of 2006. The only US stallion Approved at that testing. He has also received 1st Premium at every Keuring since 2001 (as a three year old) See more of Teade here.
---
Horse: Zephinia fan Old Mill
Breed: FHANA Registered Friesian.
Date of Birth: 03/25/2007
Height: Estimated 15.2 to 16 hands
Gender: Mare
Color: Black
Sire: Teade 392
Dam: Aahnya
Training: Leading, tieing, trailering, clips, stands quietky for the farrier
Credits: Received 2nd premium at the 2007 FHANA Keuring, hosted by ISF Friesians