Imported the winter of 2004, This " Blue and White " mare 's lines can be traced to some of the best known Drum Horses used in England ! One, A mare named Juniper, personally owned by the queen of England. Social well handled Expressive, rhythmic gaits, 17+ hands. She is a very important addition to the gene pool here in America and is a wonderful broodmare. Training: Driving/riding She also stands quietly to be clipped, trimmed, and groomed.. This girl is a dream horse for the experienced rider/driver or because of her quite level headed temperament would make a wonderful horse for that new inexperienced rider. Bell is very heavily feathered, these photo's taken 8/30/11/ Her feather is a bit burned from all the rain and mud.
**Please note: all of our horses "are horses". We do not keep our horses stalled unless it is necessary, so their feather may be burned, their manes may be a little chewed off by another horse, No need to worry we guarantee it all grows back, they are all happy and healthy! We put our horses well-being ahead of our desire to have clean "perfect" looking horses!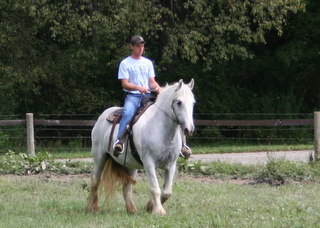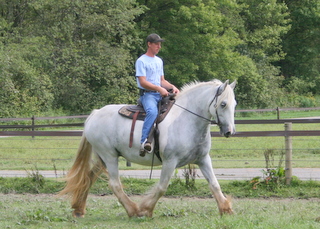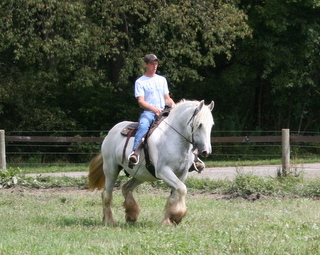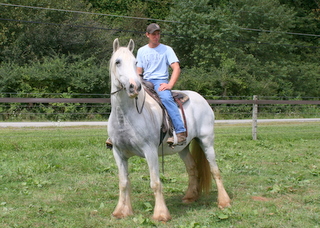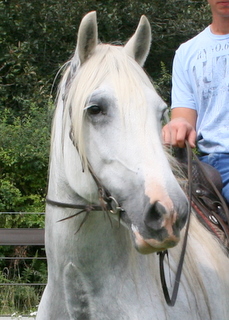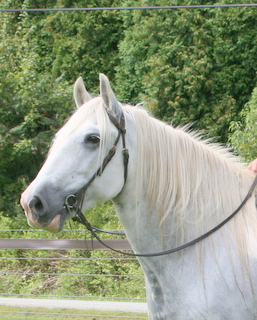 Photo's above taken 8/30/11
.
Because Bell has a grey coat, and Tobiano skin coloring, it casts a "Blue" appearance. The pictures below were taken up close and in the shade to show her coloring a little better. You can see this color when she is wet, to look at her you see a solid white horse .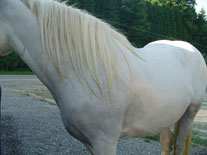 ---
Horse: Blue Bell
Breed: ADHA/GCDHA Registered Drum Horse
Date of Birth: 1997
Height: 17+ hands
Gender: Mare
Color: Gray and white ( Skewbald
Sire:
Dam: Bess
Training: Driving / Riding
Credits: Can be traced back to the Queen of England's horses, Juniper and Duke
.Price : 12,000.
Below a few of Bell's offspring.
Bell's Offspring- click on photo for more info or hold cursor over picture for breeding info. This is just a few not all please see sold horses to see more
2004 Champion Drum Horse.
This foal of Blue Bells was the highest selling Drum horse to date.