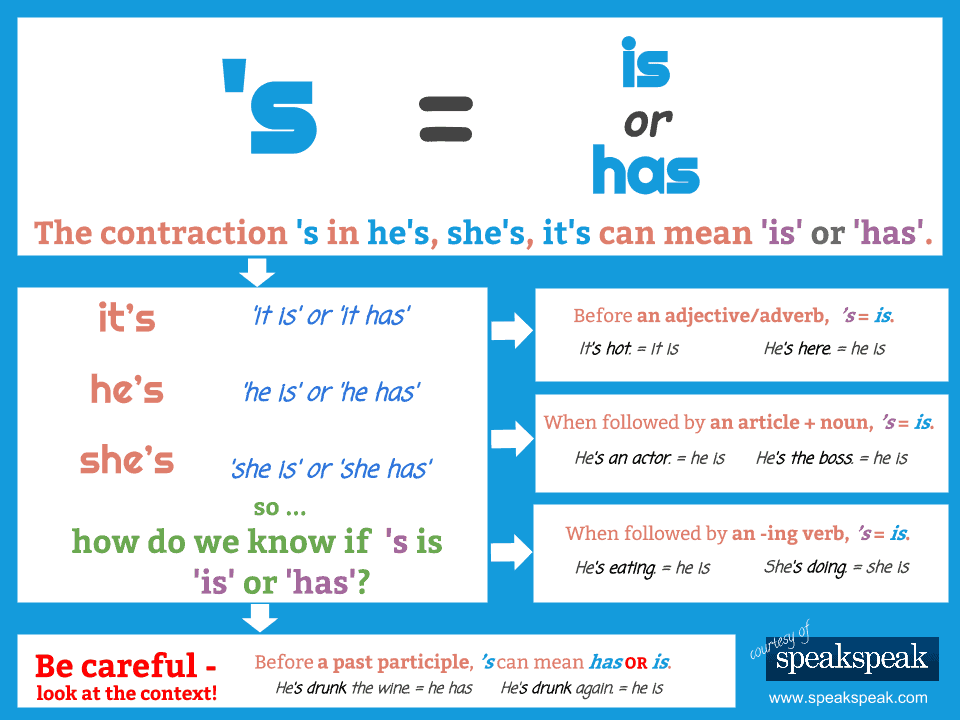 Gypsy Vanner Colt
Mack is an outstanding 2 year old gelding .Sired by Slainte, and dam to Flower ( a toy Boy Jr* ) offspring. Mack is super quality breed, just an exceptional all around guy who will defiantly mature into an unbelievable companion. He is UTD on vacs, leading , lunging, loading, clipping, standing for farrier and even doing  obstacles and a few tricks as you can see. With tons of potential, he is going to be very flashy indeed. He has white feather down the back of his front legs and black down the front. 2 white socks in the back. We love love love this gelding. This little guy has conformation, conformation, conformation, small sweet head, short back, heavy bone and tons of  feather. ( burnt at this time but growing back nicely )  He has a very curious personality and is an awesome mover. He's always got his tail high and prancing. To watch him move is really a joy.  This guy will be VERY FLASHY. The gypsy world simply doesn't  have enough geldings out there that can show. We are pretty sure that Mack will show and be noticed ! Rather he is used Show, pleasure ,driving we're sure he will fit the bill.
You can see Mack on You-Tube  search ( Old Mill farm + Mack ) to see him .
Photo's taken 3/14/2012 he needs cleaned up and clipped . He has a ton of feather but it can't be seen here very well the mud has it burnt off pretty good. I'll add more photo's after we clip him right before the Equine Affaire.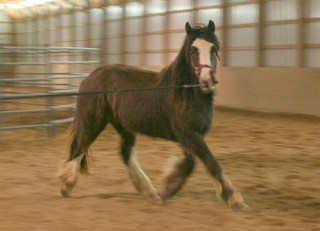 Pictures above taken 3-2012 Mack  is getting ready to go to the  Equine Affaire in Ohio April 12th -15th .  Dan introducing him to all kinds of new things umbrella's, tarps you name it all those scary  things that they have never seen  before. At day 2 only 10 minutes into our 30 minute day with the younger ones. Dan had Mack climbing the steps. This little gelding couldn't be a more willing to please little guy.
Still we have had nothing but mud and rain all winter so his feather is burnt. Please look below in the photos during the winter months and see that he has a ton of feather and it will all grow back nice ! He also still has  his winter coat and it's sure dirty.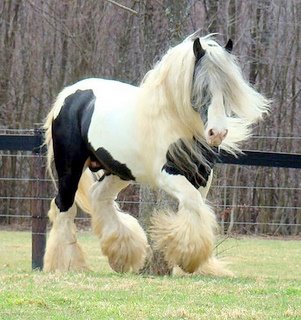 Sire Slainte and Dam Flower who is just turning 4 yrs old in photo.
---
Breed: Gypsy Vanner
Date of Birth: 6-17-2010
Height: Should Mature around 15-15.1 hands
Gender: Gelding
Color:  piebald
Sire: Slainte
Dam: Flower
Training:
Credits: Sire, Slainte is to date, the top earning Gypsy Vanner stallions. He has retired with 17 championships earned in 4 years!
See this horse in person: At Old Mill Farm!
Price  Reduced contact us please