Yes, her feather was all burnt off. But all three judges agreed that Champagne Toast was still 1st place. A class of 4 foals. Ages 2 and under.
Pictures below she took Reserve Grand Champion mare in the open class mares. A class of 10 other mares of all ages. Yep even with the feather burnt.
While at the 2011 Grand National Gypsy Show Horse Association, our little Champagne Toast won 2011 Grand National Champion Mare 2 and under, also Reserve National Champion Open Mare. Reserve National Champion Open Weanling Mare. (And all of her feather was burnt off at the time. ) It's hard to see the two banners hanging from her neck in these photos. She loved all the people and enjoyed the show. She is a real little sweetheart, and one of the nicest temperaments I have ever come across she loves attention and people.
Pictures taken below 5-15-2011
Pictures taken below 3-2011
Pictures taken below winter 2010
Pictures taken late summer 2010
SIRE and DAM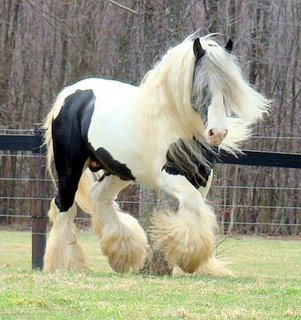 Sire
Dam
---
Breed: Gypsy Vanner

Date of Birth: 6-23-2010

Height: Should Mature around 15-15.1 hands

Gender: Filly

Color: Piebald

Sire: Slainte

Dam: Olivia

Training:

Credits: Sire, Slainte is to date, the top earning Gypsy Vanner stallion. He has retired with 17 championships earned in 4 years! This filly's grandsire is none other than famed Lottery son, Tonka! This mare will be a show stopper, not to mention she couldn't get better blood....She is worth ever penny and more. We'd love to have you visit us to see her. Or e-mail us for more updated photo's

Price: $18,000