Our most recent photo's of Max. Just taken 3-1-2012 Heading to the Equine Affaire in Ohio April 12th -15th we are getting the younger guys ready introducing them to all kinds of things like tarps, umbrella's and all the scary things they don't like at first :) He is doing wonderful and very willing wants to please. He is awesome !
I hope to get a break from all this mud to snap more recent photo's soon. We have had awful weather with mud for the longest time since I can remember. His feather is burnt and he is really dirty in these photo's . But I promise you he cleans up and his feather all grows back .He has such a wonderful personality . This little guy is BEAUTIFUL and seems to know it ! You just can't help but watch him as he runs and moves through the fields. He's so graceful and at times just seems animated He's 100% an eye catcher. Max is loaded on You-Tube just search ( Old Mill Farm + Max ) .
Pictures above taken 9/2011
Photo's above taken 3-29-2011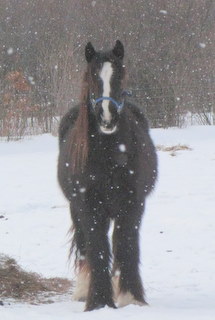 Dam
sire
---
Breed: Gypsy Vanner, Registration pending

Date of Birth: 5-29-2010

Height: Should Mature around 15 hands

Gender: Gelding

Color: Black Max White Sabino

Sire: Cobalt (By Bob the Blagdon out of the Blue Blagdon Mare, now deceased)

Dam: Toy Teddy

Training:

Credits: Sire, Cobalt is a multiple Champion Vanner Stallion (out of The Blue Blagdon mare and Bob the Blagdon.) Grandsire is Toy Boy Jr. (uk)

See this horse in person: At Old Mill Farm! E-mail us for more updated photo's .

Price: Reduced please contact us.